Manual Crab Winch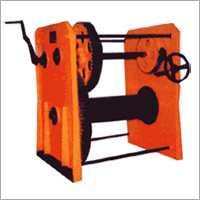 Manual Crab Winch
Product Description
Crab Winch
We are a well established organization engaged in manufacturing and exporting high-grade Crab Winch. These products are manufactured by our skilled professionals making use of modern tools and machines. Premium quality steel and components like gears and steel wires are used to manufacture these products. Owing to its efficiency and long lasting service, these products are widely demanded in construction, automobile and many other industries. The Crab Winch is available in various specifications for the various requirements of our customers
OTHER DETAILS:
Crab Winches (Manually Operated & Controlled) are Robust in Construction can withstand in heavy stress conditions easy to operate.
Cast IRON ROUGH GEARS & PINIONS
Cast IRON GEARS & PINIONS (Machine Cut teeth)
Steel GEARS & PINIONS
Construction
1.1 Side Frame: Reinforced, rectangular side frame made out of MS Plates, angles, etc. duly welded and fabricated.
1.2 Drum Shaft: M.S. Fabricated / Seamless Tube, Flanges, Welded on the both ends of the barrel.
1.3 Drum Shaft: EN-8 Drum Shaft. Rope Drum Bull Gear fixed with the Drum shaft through locking arrangements & mounted on bushes on the both ends of the shaft.
1.4 Purchase Shaft: Gears, Pinions, Ratchet Wheels, Brake Drum are fixed with shaft through keys and mounted on bushes.

Hold-On-Ratchet & Pawl
Ratchet wheel locked to purchase shaft through keys and Forged Steel Pawl placed on side frame, for suitable engagement and to hold the pay load.
Brake
Screw type band Brake with wider Cast Iron Brake Drum and suitable Brake lining for better Brake engagement along with operating hand wheel

Note: Hand Pressure require on Brake Wheel for Brake engagement - 160 Newton (Maximum)
Efforts Required
On continuous duty- A person can pull/push 250 Newto
Note: Efforts may slightly vary from winch to winch subject to the efficiency of individual winch.

Cast Steel long operating handle for better & smoother operation
Operational Test - 1.25 times
Static Test - 1.50 times
Specification
| | |
| --- | --- |
| Automation Grade | Manual |
| Usage/Application | Industrial |
| Material | MS |
| Country of Origin | Made in India |
| Rope Length | 5 m |
| Finishing | Painted |
| Capacity | 10 ton |