Pulling Lifting Machine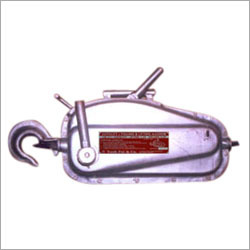 Pulling Lifting Machine
Product Description
We are counted among the most distinguished organizations, engaged in manufacturing and exporting pulling Lifting Machine. These machines works with two pairs of steel jaws which are operated by a hand lever. These machines are used in construction industry and factories as these have the capacity to lift huge amount of weights. Stainless steel and components are brought from the renowned vendors to manufacture the pulling Lifting Machine.

Other details:

Lifts upto 5000 kg upto any height
Pulls upto 8000 kg upto any length
Available in 5 models 0.75 to 5 tonnes lifting capacity
Applications In Different Industries
Steel Construction & Civil Construction
Erection and Maintenance of Plant & Machinery
Bridge Construction & Repair
Maintenance of Escalators / Elevators for high rise buildings
Telecommunication - Erection of towers, laying of cables, piping etc
Oil industry and hydrocarbon processing
Railways - erection, construction, rolling stock etc
Shipbuilding, Marine Engg, Ship breaking, Water Transport & Water Works
Mining underground as well as surface uses
Ordinance Depot, Air-force, Navy including signals & transportation
Oil Exploration, Petroleum & Gas
The Lifting and Pulling operation is achieved by two pairs of steel jaws operated by a hand lever. The grip is actuated by the movement of cams through operation of hand lever.
Very Compact, Easy Maintenance, Equipped with Overload prorection device.